Rated:
3

out of

10


by

IncreaseEjaculate.org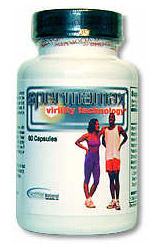 Spermamax claims to increase sperm motility and number and thus, in turn, male virility. However, what Spermamax is missing is that there is more to male virility than simply fertility, else the words would be synonymous. While virility does include the ability to procreate, these days, there are various aspects of sexual features and performance that go in to defining what is virile. Many men, on the search to increase their own virility, are interested in products like Spermamax, with the end desire of increasing their ejaculation volume. It is not all about the ability to produce a child, but also about sexual performance and enjoyment.
Spermamax Ingredients
The ingredients in Spermamax read like the back of a bottle of vitamins. These ingredients include Zinc, Vitamin C, Vitamin E, Vitamin B-6, Vitamin B-12 and other vitamins and minerals. While the effects of vitamins and minerals on overall health can of course not be denied, Spermamax is intended to be a male sexual enhancement product, not a vitamin. There is no mention of horny goat weed, Catuaba bark, Maca root, L-Arginine or Yohimbe at all. All of those ingredients are proven to have specifically sexual benefits on sexual stamina, energy, staying power and ejaculation volume. While vitamins are nice, they are not the ingredients one would expect to find in a product like Spermamax which claims such sexual enhancement benefits.
Spermamax Benefits
Spermamax claims to offer such benefits as increased sexual stamina and energy, increased ejaculation volume, and longer and stronger orgasms for enhanced sexual pleasure for both partners. However, what Spermamax claims and what Spermamax actually provides are two different things. What benefit Spermamax does offer is in its impressive combinations of vitamins and minerals that promote overall body health. This overall health is important to sexual performance, so it can be said that Spermamax does have some benefit on sexual performance and enhancing certain aspects. However, the same results could be achieved through diet and exercise, or a quality multivitamin.
Buy Spermamax
Those wishing to buy Spermamax can do so online. Single bottles of Spermamax are offered for $60 plus shipping, while six bottles sells for $260, a modest savings overall. Though there is no free trial offered, Spermamax does offer a 90 day, no questions asked money back guarantee - but there are no easy to locate details on the Spermamax site as to how to act on the guarantee.
Does Spermamax work to increase ejaculation volume?
Spermamax contains absolutely no ingredients that have been proven to be effective in increasing ejaculation volume. Spermamax is a collection of vitamins and minerals that is comprehensive, but not targeted at the specific needs of men interested in increasing ejaculation volume. If you are interested in how Spermamax compares to other male enhancement products, check out the product chart available here. However, the ingredient list alone is enough to confirm that Spermamax is not effective in increasing ejaculation volume. The same vitamins and minerals contained in Spermamax can be obtained much more easily at any health food store, or even in a normal, healthy diet.